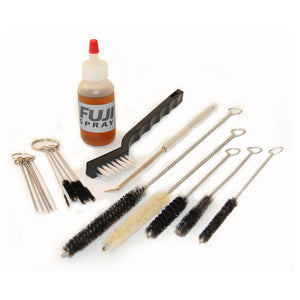 3100 Fuji Spray Gun Cleaning Kit with Lubricant
Complete 19pc Spray Gun Cleaning & Maintenance Kit with Lubricant.
This is designed for all types of spray guns & equipment.
Includes an extra-long 12" pick-up tube brush, HVLP brush, body cavity brush, detail end brush, nylon bristle parts brush, 5-pc. micro brush set, 6-pc. precision needle set, and spray gun lubricant.
California residents see Prop 65 WARNINGS