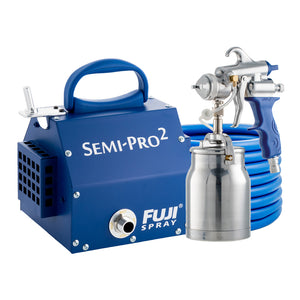 2202-Semi-PRO 2™ w/Bottom Feed
---
---
Powerful 1400 watt 2-stage with NEW M-Model Spray gun featuring Pattern Control Knob (rear) and Non-Bleed.
The Fuji Spray Semi-PRO 2 HVLP Spray System offers features like no other in its price range. The Fuji M-Model Spray gun has professional features such as non-bleed and a Fan Control Knob to adjust pattern size from small circular to wide (and all increments in between). A super-powerful 1400 watt 2-stage bypass motor in metal turbine case with handy gun holder. HVLP Systems typically feature low wattage motors that are underpowered for most spraying. Our 1400 watt 2-stage version can handle any type of coating. The Semi-PRO 2 is for the serious user.
All Semi-PRO 2™ Systems include a 1.3mm Aircap Set installed, full 25ft Hose, Quick Connect Coupler and Air Control Valve plus a 20 page User Manual.
California residents see Prop 65 WARNINGS