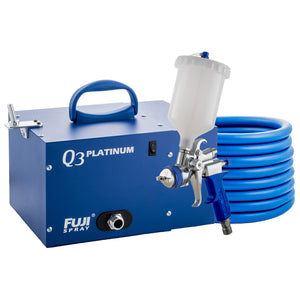 2893-T75G Q3 PLATINUM™ System w/Gravity Gun
---
---
Quietest 3-stage Turbine Motor on the market. The Q3 PLATINUM™ 3-stage Turbine Motor develops approximately 6.5psi. and is installed with the added feature of noise-reduction. The Fuji noise reduction method is patented in the USA. Research & Development was conducted by engineering staff at Carleton University in Canada under a partial Government grant program. Noise is reduced by over 50% making this the quietest 3-stage system available today. This system is ideal for Cabinet Makers and Furniture Refinishers. Perfect for any type of fine-finishing.
Available with the T75G Gravity Gun with Nylon Cup.
What's new in the Q PLATINUM™ Series?
The Fuji Spray Heat Dissipation Chamber™
The Heat Dissipation Chamber (HDC) expels excess heat from the turbine resulting in much cooler operating temperatures.
California residents see Prop 65 WARNINGS