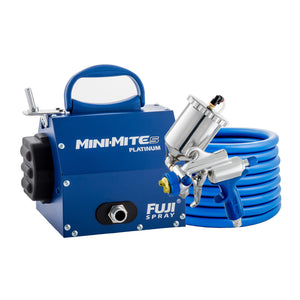 GXPC-2805 Mini-Mite 5 PLATINUM™ w/Gravity Gun
---
---
Identical to 2805 Mini-Mite 5 PLATINUM™ but with GXPC Gravity Spray gun featuring Pattern Control Knob and Non-Bleed.
The Mini-Mite 5 PLATINUM™ system uses the most powerful 5-stage Turbine Motor on the market (same as the Q5 PLATINUM™). This system is recommended for those who want the extra power available with the GXPC Gravity Gun.
Additional power allows the user to apply heavier coatings and thicker viscosity finishes faster and with less time spent on preparation of materials.
Five Bonus items included inside every Mini-Mite 5 PLATINUM™ package – 5 for 5 (6' Whip Hose, Wet Film Gauge, 19 pc Spray Gun Cleaning Kit, Extra Turbine Filters and "Always Measure" Booklet – Record your material preparation and results).
Important:  The Mini-Mite PLATINUM Series Turbines have different size filters to the other Mini-Mite Turbines.  These Mini-Mite PLATINUM filters (7224-2) are available in a 2-pack and have the shape of a hand, rather than a square.
California residents see Prop 65 WARNINGS