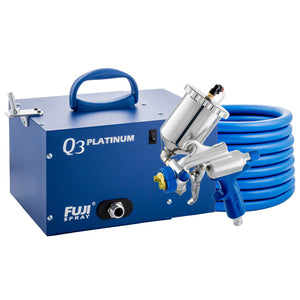 GXPC-2893 Q3 PLATINUM™ Quiet System w/Gravity Gun
---
---
Quietest 3-stage PLATINUM™ Turbine System on the market due to the added feature of noise-reduction. The Fuji noise reduction method is patented in the USA. Research & Development was conducted by engineering staff at Carleton University in Canada under a partial Government grant program. Noise is reduced by over 50% making this the quietest 3-stage turbine available today. The Q3 PLATINUM™ 3-stage Turbine Motor develops approximately 6.5psi. This system is ideal for Cabinet Makers and Furniture Refinishers. Perfect for any type of fine-finishing.
Available with the GXPC Gravity Gun that features the side mounted 400cc Gravity Cup and the tilt feature which easily allows the operator to spray in any direction including upwards.
What's new in the Q PLATINUM™ Series?
The Fuji Spray Heat Dissipation Chamber™
The Heat Dissipation Chamber™ (HDC) expels excess heat from the turbine resulting in much cooler operating temperatures.
California residents see Prop 65 WARNINGS