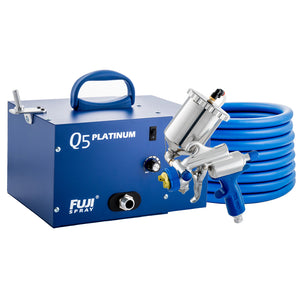 GXPC-2895 Q5 PLATINUM™ Quiet System w/Gravity Gun
---
---
For Paint Contractors spraying Latex House Paints most of the time and for those persons who simply want the best, Fuji introduced a more powerful, 5-stage HVLP Turbine System. The Q5 PLATINUM™ 5-stage Turbine Motor develops approximately 9.5 psi, allowing for less thinning of paints. The Q5 PLATINUM™ System is perfect for fine-finishing of cabinets, furniture, automobiles as well as heavy-duty painting projects.
Incorporated into its design is a proprietary Heat Dissipation Chamber™ (HDC) which expels excess heat from the turbine resulting in much cooler operating temperatures.
Available with the GXPC Gravity Gun that features the side mounted 400cc Gravity Cup and the tilt feature which easily allows the operator to spray in any direction including upwards.
Five Bonus items included inside every Q5 PLATINUM™ package – 5 for 5 (6' Whip Hose, Wet Film Gauge, 19 pc Spray Gun Cleaning Kit, Extra Turbine Filters and "Always Measure" Booklet – Record your material preparation and results).
California residents see Prop 65 WARNINGS